Written by Cam Collins / August 21, 2008
Everyday we receive headlines from various "channels" print media, television, radio and the web talking about how our financial markets are crumbling. As of this writing, it was a little over a year ago that the global credit crunch began. The mortgage business was struggling with steep losses, and the troubles were spreading throughout the credit markets.
Since then, the economy has ground almost to a halt, the housing market has become moribund, and federal officials have resorted to extraordinary means to keep the banking sector afloat.
As goes the mortgage and real estate business, so goes the recreational marine industry. At least once per week we hear news of another financial institution pulling out of the marine business. With so much debt on their books and a federal mandate (FDIC) to have a liquidity ratio of 2.5 times that of debt, banks are struggling to provide recreational marine buyers with the financing they need to indulge their habit on the water.
As the saying goes, "North Americans will find a way to recreate." Whether it's boating on the weekend with the family, or playing Texas Hold'em by a campfire, we Americans love our time away from work and prefer to spend it with family and friends. It is well documented in marine industry publications that boat buyers are becoming savvier and using the internet as a tool to locate the right boat at the right place. How much should a marine dealer or repair facility spend on print media, television/radio ads and internet advertising? This rhetorical question obviously depends upon the location of your business, the demographics of your buyer and the state of the economy in your geographic area.
When I ask our boat dealers, boatyard operators and marina managers "how's business?," the answers are as varied as the businesses themselves. Some of our customers who are focusing on a specific boat line or a particular type of customer are actually seeing growth and others are having an off year. The beauty of the internet is that business operators can reduce expense while developing a deeper and more focused relationship with their customer by using the internet and Customer Relationship Management techniques.
As of December 2007, there were 238M internet users in North America. The Pew Internet and American Life Project classified the following activities for these users as follows: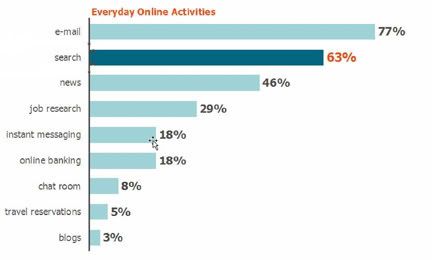 This is Part 1 in a series of posts called The Internet Channel. In future posts I will explore ways that our customers and companies outside of the marine industry have been able to cultivate customer relationships using the internet in conjunction with more traditional tools.
Since "e-mail" reigns supreme as the most used communication medium for everyday activity, my second post in this series will be entitled Part 2: Using E-mail to Communicate with Customers and will be published in October.